Mitsubishi Electric Air Conditioning
More information about Mitsubishi Electric.
Manufacturer Focus: Mitsubishi Electric

Who Are Mitsubishi Electric?
Mitsubishi Electric is a world leader in air conditioning systems for residential, commercial and industrial use. Challenged to create air conditioning systems that provide exemplary performance in a wide-ranging climatic conditions, their engineers develop amazingly sophisticated yet durable units and systems capable of constant use under virtually any natural climatic condition on earth. Each product is an amazing feat in its own, delivering years of quiet operation, energy-efficient performance whilst minimising any impact on the environment.

Mission Statement?
"The Mitsubishi Electric Group will continually improve its technologies and services by applying creativity to all aspects of its business. By doing so, we enhance the quality of life in our society. To this end, all members of the Group will pursue the following Seven Guiding Principles."
Mitsubishi Electric Wall Mounted Systems
Mitsubishi Electric Ceiling Mounted Systems
Mitsubishi Electric Floor Mounted Systems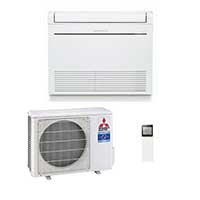 MITSUBISHI ELECTRIC - MFZ-KJ FLOOR MOUNTED INVERTER R410A SPLIT SYSTEM 2.5KW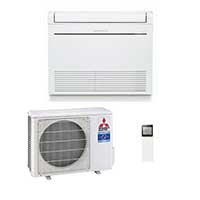 MITSUBISHI ELECTRIC - MFZ-KJ FLOOR MOUNTED INVERTER R410A SPLIT SYSTEM 3.5KW
TESTIMONIALS
Read what our customers have to say.



"Great product and great service, thanks for all your help."
M Coles, Richmond



"The best price i found online and delivered next day, highly recommended."
J Bradwell, Sheffield



"Very helpful with finding the product for me, would recommend. "
R Ashton, Brandon